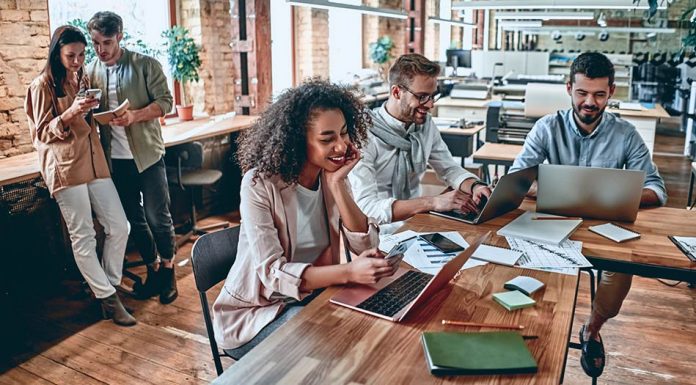 Using the right tech tools is essential for conducting successful business. As companies continue to create digital components for operations and objectives, there are several tools on the market designed to make these tasks easier to complete. To make integrating technology easier, here are six top workplace tech trends to consider for your company.
Communication Platform Tools
With more and more employees working remotely, finding communication management platforms that integrate efficient life-chat features and task management chains is essential to workplace productivity.
The right tools can keep everyone in the loop and informed on critical information like 2021 CPT changes, project cancellations, and so on. Any employee that works out of the office or across the world can feel just as tuned in as someone working at the place of business with these innovative tools by their side.
Payroll Management Solutions
Ensuring that everyone is paid on time is one of the essential parts of maintaining a solid business. Everyone is waiting for their cut. From employees to partners to suppliers, everyone expects to be paid on time.
By using a smart payroll management solution, you no longer need to keep track of payments. You can set up your software to automatically register and distribute payments on time to avoid delays. Many payroll solutions also contain features to create automatic reminders that can be incorporated to keep you on track of expenses outside of the system.
Email Marketing Services
Email marketing has proven to be one of the most powerful ways to connect with clients, maintain relationships, and even attract new clients to your products and services.
You can pay for email marketing solutions in order to receive automatic updates for your mailing list. You no longer need to manually write up emails and newsletters and keep a contact list with the right services in place. Take the busy work out of email updates by using smart email marketing services.
Mobile App Integrations
Regardless of the solutions, you use to manage your business, most contain mobile app adaptations. These adaptations make it possible for workers to continue taking care of business while on the go.
You no longer need to be sitting at your computer to conduct work or to fuel traffic to your online business. Now tasks can be assigned and completed faster than ever before with on-the-go applications featured within many business management solutions.
Online Feedback Surveys
Employers can get a better idea of how their employees and customers feel about their company with online feedback surveys.
With anonymous surveys created in line with the needs of your business, it is easier than ever for people to complete surveys that provide your company with valuable feedback and advice.
You can customize and create your surveys to ask questions that are specific to your business needs.
Task Management Solutions
Keeping track of workplace tasks has never been more accessible with task management software built into management solutions. There are also stand-alone task management solutions that you can download for viewing and usage on your computer.
Obtain the luxury of taking work with you wherever you are to keep things convenient and productive. With task management solutions, you can speak with clients and employees worldwide using the platform established through the system.
The Bottom Line
Today's most effective tech trends pertain to excellent communication and productivity tools. The objective is to carry out business no matter where you are in the world. With the right digital tools, you can complete tasks, monitor activity, and communicate using easy, all-in-one frameworks. Work has never been more efficient and flexible.