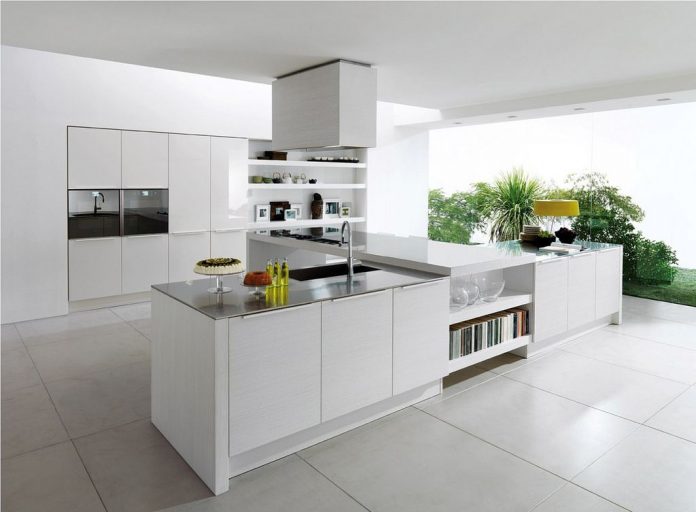 We talk about the most useful accessories for the kitchen, the use of which will facilitate cooking, cleaning, and storage several times, and will also save time. Comfortable and modern appliances will come in handy in both spacious and small kitchens.
Railings on the wall
Thin pipes for hooks and hanging containers will help turn the wall into an additional storage system. You can hang cutlery, cups, potholders, and other useful items on the hooks. Railings are great for small kitchens where there is little space. But it is not recommended to overload the wall with accessories. If the room is spacious, the railing can become a contrasting element of decor. You can also choose an accessory to match the color of the wall so that it is less noticeable.
Tray over the sink
This practical fixture is suitable for a small kitchen because the space above the sink often remains free. On the board, you can cut vegetables and fruits, immediately folding them into a convenient bowl.  A wooden tray may also be equipped with a colander. The accessory will become unique if you make it yourself: to the size of the sink and with any suitable container.
Magnetic knives
Experts advise storing knives on a special magnetic holder since the blades do not touch other surfaces with this method, which means they remain sharp longer. You can also create such an accessory with your own hands. It is necessary to place the holder in that area of ​​the kitchen where there is no chance of accidentally touching the knives.
Whiteboard
A stylish accessory that will decorate any modern kitchen. The use of a chalkboard is limited only by your imagination: it is a convenient surface for writing down recipes, and menus, creating romantic and encouraging notes and children's drawings. Instead of black paint, which can cover any surface, you can use cork. while talking about cooking we cannot forget about Aprons, you can get High-Quality Aprons from Harmony, they have a wide range of Aprons.
Sink organizer
A great way to clean up the area near the sink and get rid of scattered sponges and rags. With the help of dispensers, it is easy to bring cleaning products to a single style: a kitchen without colorful bottles looks more expensive and tidier. In addition, buying liquid products in bags is much more profitable and environmentally friendly.
Perforated board
Unusual, but fashionable and often found in modern interiors accessory. A perforated board is ideal for storing anything: it protects the wall from dirt, and the hooks can be rearranged anywhere. The board is versatile and mobile, it can be hung above the work surface so that everything you need is at hand.
Board hanger
A special metal shelf allows you to place wooden boards vertically in any convenient place: on the railing or on the door. The separators between them prevent moisture and the occurrence of fungus. You can safely put a wet board on the shelf. An additional hanger helps to dry the kitchen towel in a straightened form.
Tablet stand
When cooking, we often use recipes – and it does not matter where we get them: from a cookbook or from the Internet. Sometimes we need to pass the time while pancakes are baked or dumplings are made. Tablets and phones become indispensable assistants in such cases, but the kitchen is not the best place for electronic devices if there is no special shelf for them. The stylish stand shown in the photo will help you place the device safely.