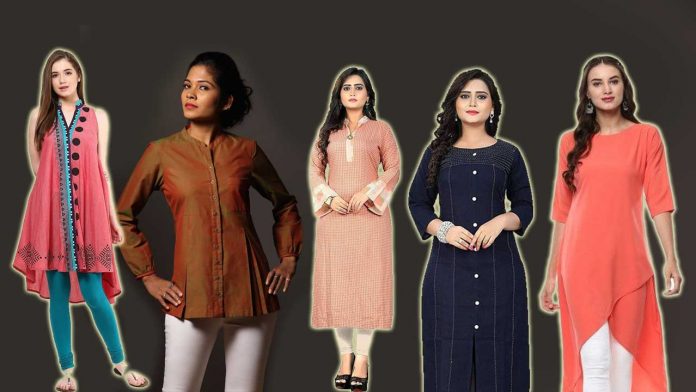 Be smart enough to try and create a unique style statement in different types of kurtis. Wear casual flared or cool college style, wedding anarkalis, straight, long kurta for an imposing professional appearance, etc. Kurti is the first choice of college girls as well as working women, women in society and housewives for any occasion. Interestingly, these are available in a plethora of styles and designs. Every fashion designer is trying to keep pace with Kurtis' growing popularity and find endless solutions to design Kurtis in keeping with the latest trends. As a result, users get large choices, with different patterns, cuts, and designs, from the ethnic to indo-western styles. To help you a bit, we have come up with different types of Fashionable Kurtis – just have a look and in every avatar, you'll have the best way to look.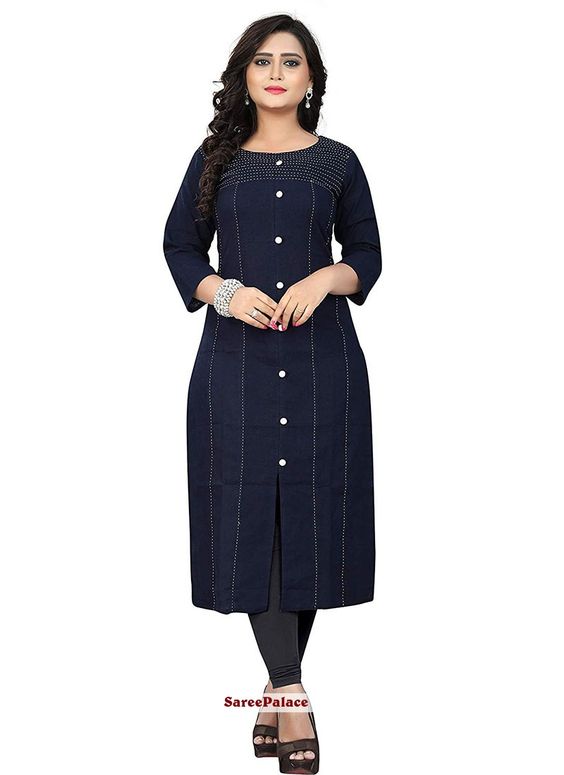 1: A-Line Kurti
When to Wear: College Wear, Dating, Parties, Daily Wear, Festive, Formal and Casual
Pairing: Jeans, Leggings, Patiala, Tights, Dhoti Pants, Matching or Contrast Capri and Churidar
Accessories: Leather Strap Watch, Chain Pendants, Wooden Bangles, Stud Earrings, Jhumkis and Bags
Footwear: Pumps, Bellies, Sandals, Kolhapuris and Mojri
Avoid: Women with Wide Shoulders, Inverted Triangle, Apple Shape
Our Kurti Designs of 2019 start with A-Line Kurti which is the most favorite among young people. It reaches the calf or knee and has the tail flare for a panel in the form of "A". A large collection of aligned kurtis is available on the market in various colors, shades, patterns, and designs.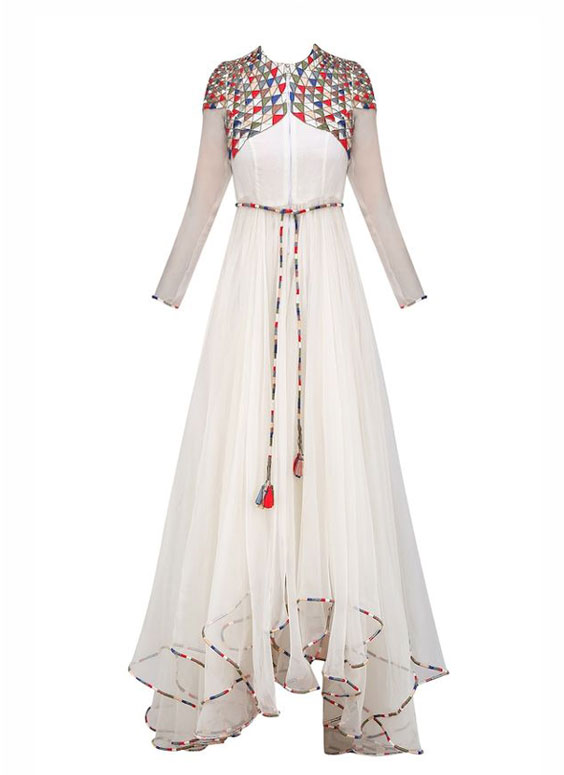 2: Trail Cut Kurti
When to Wear: Dating, Evening Wear, Festive, Casual, Outing, Parties, and College
Pairing: Leggings, Jeggings, Treggings, Tights, Jeans, Stockings, Bottom Less and Tulip Pants
Accessories: Choker Necklace, Dangle Earrings, Stud Earrings, Delicate Chain Watches, Jhumkis, and Anklets
Footwear: Kolhapuris, Gladiators, Bellies, Pumps, and Sandals
Avoid: Dhoti, Patiala, Shorts, Skirts, Heram, and Apple Body Shape
Trail Cut Kurti is one of the latest and Fashionable Kurtis in trend now. It's quite a bit different from c-cut kurti with c-cuts on both sides. Please note that the texture of materials can change kurti's overall appearance and therefore prefer georget, chiffon, silk, and border crepe to enhance the look of designer cuts.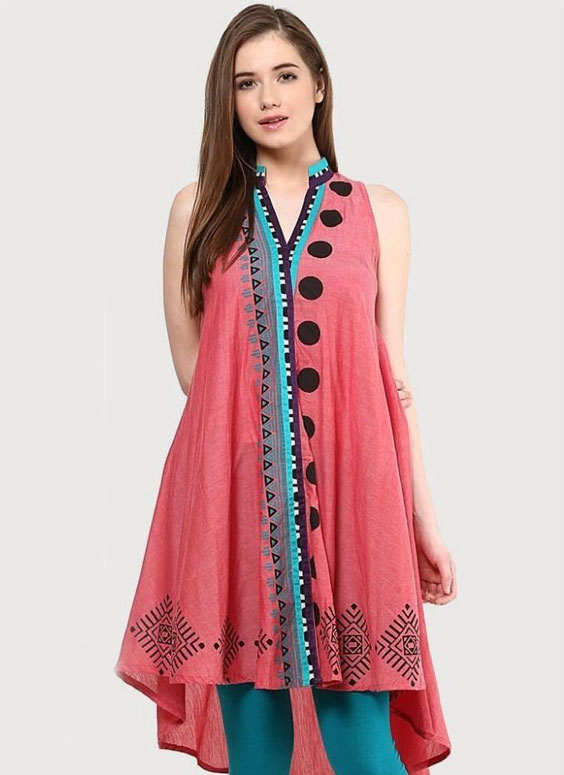 3: Tail Cut Kurti
When to Wear: Dating, Club Parties, Kitty Parties, Casual, College, Festive
Pairing: Jeggings and Treggings, Leggings, Stockings, Bottomless, Jeans and Ethnic Jackets
Accessories: Dangle Earrings, Stoles, Jhumkis, Cuff Bracelets, and Stud Earrings
Footwear: Ankle Strap Heels, Sandals, Chappals, Peeptoes, Wedges, and Pumps
Avoid: Apple body shape, Formal, and Inverted Triangle Shape
Looking for more Fashionable Kurtis for parties? Tail cut kurti is the trend for party functions with the layered pattern. It is short on one side (front or back) and on the other side, it has an effect similar to the tail. Tail cut kurti for young Indian girls & women is the best option to wear on the west. You can use tail cut kurti without a bottom for a more glamorous look.
4: Anarkali Kurti
When to Wear: Daily, Wedding, Formal, Casual, Festive, College wear, and Any Other Traditional Functions
Pairing: Leggings, Jeggings, Patiala, Churidar, Long Flared Skirt, Ankle Jeans, Palazzo, and Ethnic Jackets
Accessories: Jhumkis, Multi Strand Necklace, Dangle Earrings, Delicate Bracelets, Bangles, Watches, Scarves, and Stoles
Footwear: Flats, Kolhapuris, Pumps, Jutis/Mojaris, Bellies, Sandals, and Chappals
Avoid: Long Trips and Stockings
Anarkali Kurti is another great option to consider when it comes to Kurti Designs of 2019. For that grace and traditional elegance, Anarkali Kurti is perfect as well. Anarkali is fine in every form of the body i.e. Hourglass, Pear, Rectangle and Apple – but there are numerous style tips you should take a look at before trying it out.
5: Asymmetric Kurti
When to Wear: Casual, Daily wear, College, Evening Parties, Dating, Trip and Festive
Pairing: Skinny jeans, Leggings, Jeggings, Churidar, Bottoms Less, and Tights
Accessories: Watch, Sunglasses, Bags (Sling, Hand-held, Tote, Clutch), Dangle Earrings, Hoop Earrings, and Tassel Drop Earrings
Footwear: Pumps, Gladiator, Flats, PeepToes, Wedges, Sandals, and Boots
Avoid: Palazzo, Skirt, Apple Shape and Patiala
Just try kurti with asymmetric hemline when you get bored of the straight line. It gives a picture of height. Bollywood divas are keen to wear these kurtis to distinguish themselves from the crowd. In general, these kurtis are lightweight textiles like chiffon, crepe, and georgette.
6: Tulip Kurti
When to Wear: Dating, Casual, Festive, Party and College
Pairing: Jeggings, Leggings, Jeans, Tights and Straight Pants
Accessories: Drop Earring, Statement Necklace, Cuff Bracelet, Ring set, Hoop Earring and Bags
Footwear: Peep Toes, Pumps, Kolhapuris, Sandals, Juttis and Wedges
Avoid: Interview, Skirts, Patiala, Pear Shape Body, and Dhoti and Bottomless
Tulip-formed kurtis are the best Fashionable Kurtis with a must-have flattering style in any girl who comes to college. Its trendy tulip design on hemline distinguishes it from other kurtis and gives you a lasting impression of any party or wedding.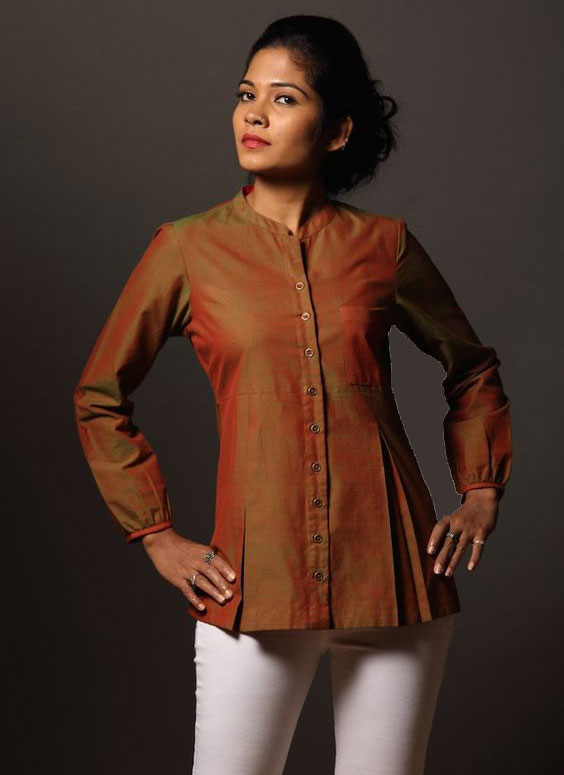 7: Reversible Kurti
When to Wear: Casual, Interview, Formal, College, Daily Wear and Festive
Pairing: Jeggings, Leggings, Treggings, Palazzo, Jeans, and Skirt
Accessories: Stud Earrings, Drop Earrings, Chain Bracelet, Wooden Kada, Stoles, Watch and Bags
Footwear: Flats, Heels, Chappal, Juti/Mojari, Wedges, Bellies, and Sandal
Avoid: Boot, Parties, and Wedding
Let's finish the list of Kurti Designs of 2019 with Reversible kurti which is like receiving two pieces at one price! It can both be worn inside and outside to create two beautiful looks. Of course, expanding your wardrobe is a great way to do so. Keep an eye for reversible kurtis, so that your garment is much more advanced.