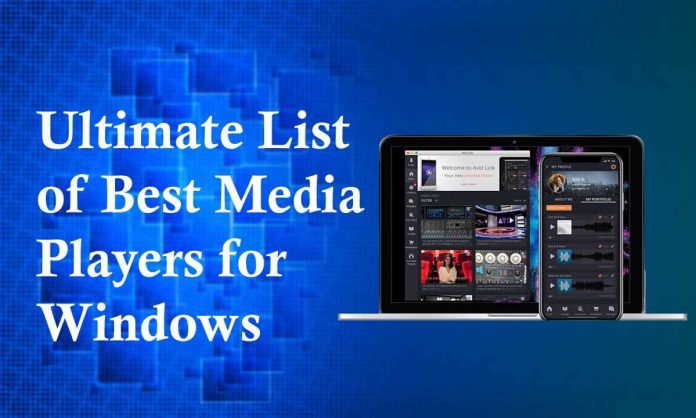 If you are looking for an answer of which is the Media Player for Window PC, you have come to the right place. A media player must be simple, intuitive and lightweight as well as feature-rich software. If these factors are taken into consideration, we recommend then media players such as VLC, GOM, Media Player Classic, etc. But what about its characteristics?
As many software for Windows are now available, choosing the right one is not an easy task for your computer. Moreover, not all free media players are able to run any popular file formats such as MKV, FLV, AVI, MP4, MOV and others with the increasing amount of new media formats. That is why we have compiled a list of best Media Players for Windows here on this single page to help you make a right possible decision. So, without wasting even a second more, let's keep going!
 1: VLC Media Player
An interesting fact about VLC which is the Best Media Play is that since 1996, technology has improved even more. The exclusion of this fantastic video player from the list would have been unfair, and the major reason behind that is quite simple. There are many features like full open source, supports subtitles, highly light on resources and easy to use. For years, these features made the VLC player a favorite fan, and the user base only increases. Although it's an old software – but updates are still available today. The VLC player improves the user experience more and more day by day.
2: GOM Player
The next Best Media Player in our list is a GOM player. Very much like VLC, GOM player supports a plethora of different media formats such as MP4, MKV, FLV, AVI, MOV, DVD, WMV as well as Audio CD. Not only this, GOM Media Player for Window supports YouTube VR videos and 360° videos. This impressive media player is, interestingly, one among a few media players that can play broken videos and more importantly, partially downloaded media files. It has a minimal UI and controls are impressive too. Like VLC, it provides subtitles for almost every famous movie. The only drawback is that random advertisements may annoy some of you.
3: PotPlayer
PotPlayer has recently achieved a good reputation by competing with other video players such as VLC. South Korean Internet company Kakao is behind the development of this Windows platform multimedia software. PotPlayer has many features and specialties that allow the VLC to run for its money easily. An extensive amount of customization options enables you to make this software fit for all of your needs. PotPlayer offers the highest performance and lightweight experience using techniques such as CUDA, QuickSync, and DXVA. That's the reason it's the Best Media Player in this list.
4: KMPlayer
The next one in our list is KMPlayer which is the great and free Media Player for Window that comes with the ability to play all mainstream video and audio files easily. It has an onboard codec for Windows 10 – therefore, you do not need to scout for any different codec. However, you can add external codecs in order to increase its compatibility further. It supports 3D, 4K, and UHD that take your enjoyment to the next level. It's the Best Media Player – also known for its extensive range of support for formats. You will be encountered with hundreds of choices when it comes to video and audio effects – that make sure that you don't need to feed the dearth of any feature.
5: Media Player Classic
As its name indicates, Media Player Classic is a traditional media player that is on our list of Best Media Players. The Home Cinema version was built after the stopped development of the original Media Player Classic. The developers have together improved the older version and produced a quick, lightweight software. The Black Edition is the other gateway to the original Media Player Classic. Comparing these two, Home Cinema ranks better and continues to improve its function to become one of the media players.
Taking a look at its fancy features, Media Player Classic doesn't come loaded, like other software on this list. However, it doesn't really mean that you will be disappointed. It can be used even on your old computer without any hassle.
6: ACG Player
It's the time to stop looking any further because ACG Player may be your ultimate choice especially when you want a UWP media player app for Windows 10. It is easy to use Best Media Player with features like audio and video effects, music displays, subtitle art fonts, gesture control, and background music. ACG Player supports out-of-the-box most media codecs and follows no-wrong policy. Playback from outside devices, file, and discs is also supported. An even lighter ACG version is available as Ax-Lite which is also the faster version without certain features. Just give it a try for its clean and zippy interface.
7: DivX Player
Last but absolutely not the least, DivX Player is the Media Player for Window. It is the first media player of its kind to provide free HEVC playback. Ultra HD (4K) playback is also available with this popular and useful media player. Obviously, DivX players are optimized in the most popular formats like MP4, MKV, DivX, and AVI for playback video files. DivX is also used as a media streaming player for streaming music, video and photos to any DLNA-compatible device.
So many advanced features are available in DivX Player such as Trick Play that enables you to jump to your favorite scenes with ease. And with the help of Chapter Points, you can play different scenes easily. The support for multiple audio, on the other hand, lets you switch among different soundtracks with less hassle.