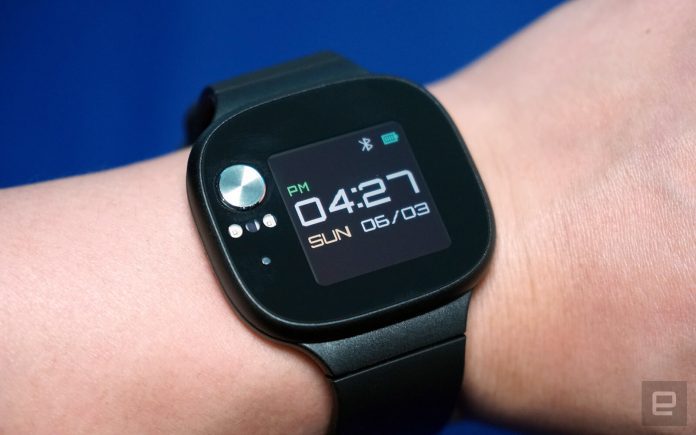 There were a bunch of announcements at 2018's Computex in Taipei and Asus VivoWatch BP announcement is one of them. Let's admit that we're all used to wearables for tracking our heart rate, but Asus VivoWatch BP goes one step ahead – it's the first health wearable to track your blood pressure. It doesn't sound a PowerPoint presentation you'd expect in Computex Taiwan but Asus actually wanted to discuss hypertension – otherwise just known as high BP (blood pressure).
According to the survey, the condition affects around 1 in 5 adults which results in 9 million deaths per year worldwide. And based on a study done by Asus, around 1.5 billion people will be affected by 2025 worldwide. It sounds a 60% increase from the year 2000.
Asus VivoWatch BP Release Date & Price
After weeks of delay, Asus announced Asus VivoWatch BP Release Date which is the end of July 2018. The release date is coming closer and closer day by day but VivoWatch BP isn't complete yet, said by Asus.
As far as Asus VivoWatch BP Price is concerned, chances are it'll be sold at $172-190 – that's something to be announced. .
Asus VivoWatch BP Features
The VivoWatch boasts an extensive amount of features such as ECG and PPG sensors to measure your heart rate as well as your blood pressure even on the go. The PPG (blood pressure monitor) sensor flow via the tip of your index finger and shows output. This concept sounds great, but it's far from ready. It has been said that Asus used a medically wireless blood pressure sensor which is approved by medical, before putting on the watch and tallying with it. At first, the differences between the two were a little, but later they grew in following tries.
We can't think of a better way to get our parents to keep their blood pressure in check. Most of the blood pressure monitors are normally inaccessible whenever he or she needs to check their blood pressure. Now, Asus is ready to solve this problem with its dazzling VivoWatch when it's ready to land on shores.
How to measure your blood pressure? It's probably a very next question of yours, right? In order to do so, simply sit down and lightly put your index finger on the sensors and you're done. The VivoWatch would take around 30 seconds and return the systolic and diastolic readings along with your heart rate.
The VivoWatch isn't only designed for blood pressure or heart rate monitoring, it also shows how many steps you have taken, your sleep quality, and activity data just like any other smartwatch. Asus is banking on its "medical-grade sensors" and HealthAI software to pull beyond the competition.
Asus VivoWatch BP Extra Features
The Asus VivoWatch houses numerous extra features i.e. UV index sensor, alarm, activity reminder alerts, and alerts of your incoming calls (although you can't converse or answer through the watch itself). Another feature is Fitbit Charge HR which is useful to have to onboard, especially when you are exercising. These are all the alerts available. Expecting more? Chances are you'll be disappointed as if you're hoping for that low-power display to show you your latest text messages or social media notifications. We think Asus could have done a little more for notifications, isn't it?
Pros
Elegant design
Decent long-lasting battery
Blood pressure monitor on the go
Many extra features
IP67 water resistance
Cons
Iffy as a smartphone
Companion app produces confusing and complicated data
Health and fitness tracking is inaccurate
For more Latest News and Reviews, follow TheITInfo on Twitter, Facebook and don't forget to share if you really liked it.