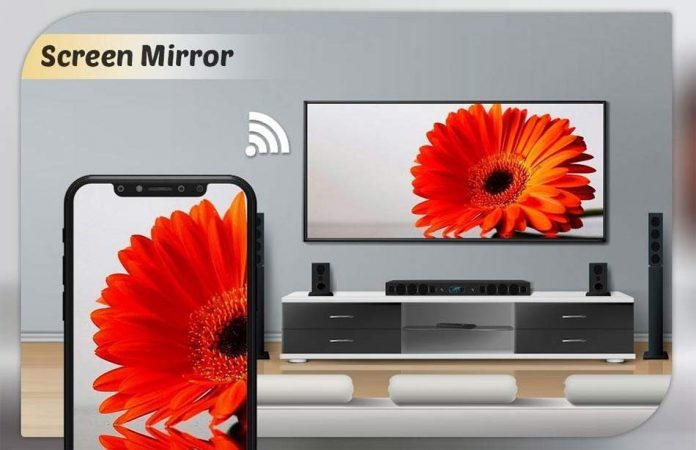 iPhone is the status symbol for many wealthy businessmen. Many famous personalities, business executives, and company representatives use this phone during their business meet. During their live conference or meetings, they might need to show the iPhone screen to a larger screen in front of other team members or delegates. For reliable iPhones mirroring, we need a trusted app that can mirror iPhone to PC without compatibility issues. There are many options available on the play store or app store for screen mirroring. However, MirrorGo is the best screen mirroring app that can be used for android or iPhones mirroring.
The app is fully compatible with all versions of iOS devices; hence it can be installed on iOS devices without any issues. Using the MirrorGo app we can display the iPhone's screen on a large screen device and record the screen or take a screenshot during a screen mirroring session as well. In case you are searching on the internet to know how to mirror iPhone to a computer, this blog is made just for you. Let us understand why the MirrorGo app is the most trusted and popular app for iPhones mirroring.
Why do we need to mirror iPhone to the PC or computer?
To see iPhones' pictures on PC: – We can show the photos or photographs stored on the iPhone to our loved ones on a bigger screen of smart Television or PC screen. We can utilize the MirrorGo application to view iPhone's screen on a PC in such a circumstance.
Show live recording to the audience:- Those game players who need to show their talent in a live game in front of their audience can use the MirrorGo application. They can play games and record recordings of the game that is played on the iPhone screen.
To show presentations stored on iPhones:- If we want to show a presentation or document to your boss stored on the iPhones, we can use the MirrorGo application.
View media files or documents on large screens:- We can use the MirrorGo application to view the media files stored on iPhones. Using MirrorGo, we can see the record, video documents, or music files on a bigger screen.
Main features of MirrorGo
Control iOS devices to PC:- In some situations, we need to control the iOS screen using pc or laptop. Using MirrorGo, we can connect any IOS device like iPhones to a PC or computer.
Mirror iPhones to PC:- If you need to show your iPhone's screen on a big screen smart TV, or large screen device, we can use MirrorGo software. It permits the mirroring for iPhone effectively with no complicated procedures.
Record iPhone on your PC:- Some games want to record the screen of their iPhones and make a video for uploading it on their YouTube channel. In case you are looking for the best iPhones screen recorder app, then MirrorGo can be your ideal choice.
Take a screen capture of iPhones on the PC or computer:-At times; we might want to take the screenshot of the iPhones screen and save it on pc or computer. We can easily take a screenshot of iPhones on a PC or computer.
Handle notification of iPhones on PC:- If the iPhone's home button is not working, we can handle the notification of iPhones on PC. This can be done with ease using MirrorGo.
What makes MirrorGo an efficient tool for mirroring iPhone to PC?
Excellent user interface:-MirrorGo app has an excellent user interface. Which makes this app easy to understand and use without any difficulty.
User-friendly environment:-The application has a user-friendly environment which makes any person use this app with ease.
Paid version MirrorGo features:-The paid version of MirrorGo has no advertisements which makes the app even easier to use because there is no distraction due to ad pop-ups. The plan price and its features can be checked from the official site.
Safe and secured application:- MirrorGo is free from virus and malware which makes it absolutely safe and secured app to install it on android or apple devices.
Customer support-We have a dedicated desk where we provide technical assistance to our customers. We can assist you with email or on-call as well.
Device compatibility-The MirrorGo application is compatible with windows, android or apple devices. It is available on the android play store or apple store.
How to download and install MirrorGo app on an ios device?
Go to app store of apple devices and search for the MirrorGo app. Then install this application.
Once the installation of the MirrorGo application is done successfully launch it. And start the screen mirroring to display the iPhone's screen on a larger device. For this, we need to connect the larger device with the same Wi-Fi network as they of iPhones.
Conclusion
MirrorGo application is the best app for android or iPhone mirroring. The application is easy to use due to its user-friendly environment and excellent user interface. Using this application we can mirror the iPhone screen to pc or computer. Not only this we can record the video of the iPhone screen and save it on a computer. We can also take the screenshot of the iPhone screen while taking the screen mirroring session with large screen devices.
The application file size of the MirrorGo is less hence it consumes less space on the device after installation which makes it a space-efficient device. We can also use pc and mouse to navigate the iPhone on a larger screen using MirrorGo app. Using this app we can play online games on iPhone and recorded the screen without any issues. In case we want to handle the push notification of iPhones during the screen mirroring session. We can do so simultaneously using MirrorGo. We can display any type of file like documents, PowerPoint presentations; excel sheets, images, or media files that are stored on the device without any compatibility issues.
There is no risk in using the MirrorGo application because it is free from viruses or malware. The application is can easily record the screen of iPhones such that we can save it on any device storage with ease. We can view the medial files, documents, gallery images that are stored on iPhone storage into bigger display screens without any difficulty using MirrorGo app.