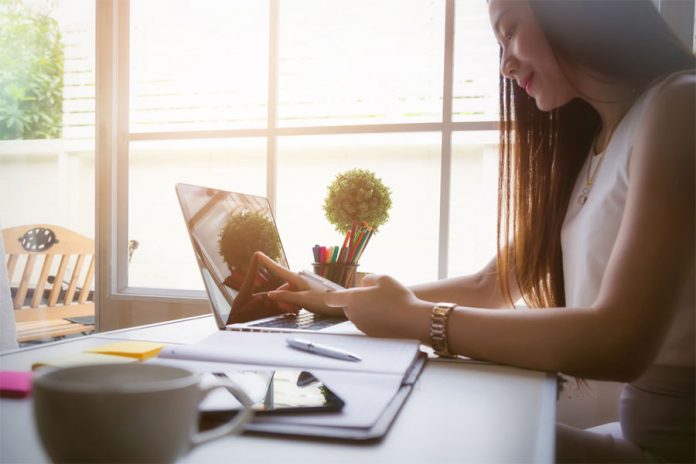 Before the pandemic hit, remote working did exist but was considered to be a perk rather than a necessity. Teams across the globe strived, beat the traffic, and walked into their respective offices every day to accomplish work. Meetings were set up to accommodate global hours and this often meant spending more time at the office. The millennials wanted to build a location-independent career but that was far from reality. Employees were expected to come to the office and that was that. The National Compensation Survey states that only 7% of the total workforce in the US had the flexibility to work remotely.
And then in early 2020, COVID-19 became the new reality.
All of sudden, global business operations were forced to prioritize social distancing over everything else. Businesses had two options- either to shut shop still, everything returns to normal, or to continue business operations with a fully remote team. Naturally, all the businesses that possibly could, moved operations online and remote working became the new norm. It worked for the most part, especially for the companies that had some mobility strategy in place and the rest just went with the flow, adopting, changing as needed. 62% of the US workforce worked from home during the lockdowns and restrictions brought by COVID-19.
Now that the lockdowns are slowly being lifted, the employees are gradually returning to the office. While the 'return to the office' is a whole other post for discussion, there are a significant number of companies that are going to continue working remotely. 74% of companies that participated in the survey plan to permanently shift to remote work post-COVID-19.
What this has opened up is the discussion for being 'remote work-ready. This time it might have happened in haste but that's not the ideal step, moving forward. And hence, the discussion opens up for the cultural change that is necessary to make remote working successful- for the businesses as well as the employees.
Let us learn why remote working requires a cultural change in your organization:
Trust matters- Managers at work
This is the first and foremost reason why several managers, business leaders, and businesses, in general, were against the idea of remote working. The lack of trust in the employees was the primary reason remote working was not a common practice and was only reserved for a few days a month, or only for unprecedented times, offered only on a case-to-case basis.
Building a relationship with your employees and creating a culture of trust and accountability will ensure that managers and business leaders have no problem with people working from home, an island, or a mountain cabin. This exercise of trust-building has to be initiated from the top funnel and has to penetrate deeply in the organization's hierarchy. In simple terms, first, the managers need to learn the art of trust.
Making accountability non-negotiable
The primary reason why managers do not trust employees when they propose remote working is because employees are not necessarily accountable. Managers do not want to risk the loss of productivity when employees are not under their supervision, within the office premises. Hence, if accountability is a part of your organization's culture, remote working will be hassle-free.
Building this sense of accountability is not easy, of course, and it will largely depend on the attitude of the employees in general. But inducting your workforce into the organization with appropriate training for culture, conducting regular sessions for maintaining the spirit, and heavily scrutinizing the cases where the lack of accountability was the cause of unprofessional behavior can help.
Hiring for attitude and not just skills
When we discuss inducting the employees into an organization's culture, it is important to understand that skills can be taught, but attitude is difficult to teach. And hence, the recruitment teams have to be involved in this cultural change. When hiring, they have to particularly look for people who fit in the culture of the organization. This makes it easy for the managers to trust, and the employees themselves are accountable- which makes the above-mentioned points easy to imbibe within the organization's culture for remote working.
Have your team communication in place
When employees work remotely, the chances of disengagement are high. There is no face-to-face meetings, connecting with the teams and collaboration is difficult, and there's no room for fun activities, celebrations, or team outings. Disengaged employees are not productive and they can often feel left out.
This is why having a strong communication strategy in place is important. Invest in a team communication tool that can help remote employees come together on chats and calls, teams can interact with ease on group chats, file sharing is easy, and sending our company-wide updates is streamlined. The right communication tool can help in driving the sense of belonging and engagement within remote teams, ultimately helping the business outputs.
Make way for business mobility
Don't expect your employees to procure resources to work from home if you want to really make remote working a part of your company culture. Invest in devices- tablets, phones, and laptops that employees can use to work from home. Ensure you also provide internet access- via LTE hotspot devices, dongles, or simply paying out for the internet bills your employees incur.
Having the right devices at hand is going to be incremental in determining the productivity of your employees when they work from home. If you do not want to invest in the device inventory at once, you can also choose device leasing over buying. This will also allow you to easily upgrade to new devices when needed without incurring huge costs. To encompass all of this plus remote access, create a detailed mobility strategy at the very beginning.
Help build a remote desk
The work environment and creating a home office is important if remote working is going to be long-term. Along with devices, do not forget to provide your employees with appropriate accessories- monitors, headsets, keyboards, desks, and chairs. You don't necessarily need to have to purchase new ones, you can simply ship your existing resources to your employees and this is where your facilities managers need to take the lead.
Enable remote access
The availability of business resources with access to corporate networks, servers, apps, and files is immensely critical to accomplishing tasks. When employees work from home, facilitating this remote access is extremely important. IT admins can hence manage all the devices with an MDM solution and enable remote access with ease.
Your employees use personal devices for work or the devices provided by the organization with remote access to work resources. Provisioning devices with resources, offering remote access, maintaining device performance, troubleshooting device errors over the air, and managing any other mobility concerns should be on the IT task list to make remote working a successful endeavor.
Build a culture of security
The top concern against remote working is the security of corporate devices and data. Building a culture of security by educating your employees about the security threats impending from connecting to unknown/public/shared networks, the importance of passwords and access control, and updating with possible phishing attacks lurking in the emails is a good start.
Further, establishing robust security policies via the MDM, enforcing password policies, disabling app downloads, and web access on managed devices and automating security checks and alerts will help to build a security profile for your organization.
Closing lines…
Remote working is going to be the new normal. By building your organization's culture for remote working, you not only ensure business continuity during any crisis that arises today or in the future but also make way for engaged employees that willingly add to the productivity.