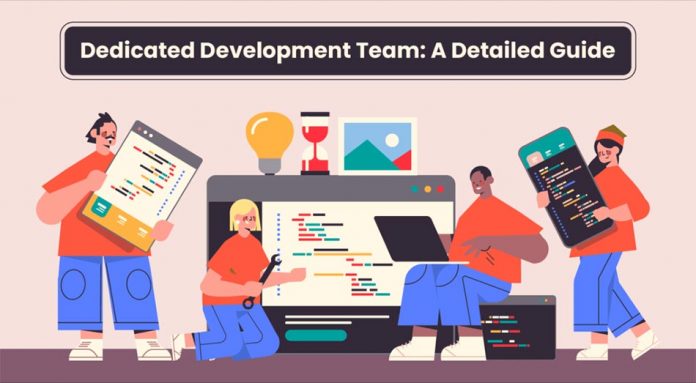 If you're looking to hire a dedicated development team to help with internal tasks, there are a bunch of things you'll need to keep in mind. There are plenty of fly-by-night development teams out there, so it's important to do your homework before making any commitments. Working with a dedicated development team requires you to go the extra mile but make sure that you tick all the boxes; otherwise, your business can take a hit.
This article shows how to hire a dedicated team in Ukraine and why this is a good decision.
What is a dedicated development team?
Before you seek a development team in Ukraine, you need to know what this term means. A dedicated team is a small or big group of professionals that work together with you on projects. The project requirements determine the team size and each team member's skill set. For example, if you need a website built, the team may consist of a project manager, web designer, and web developer.
Benefits of having a DDT
There are plenty of benefits when working with a dedicated development team:
You will have access to a variety of skilled professionals who can help you with different aspects of the project.
The team will be able to provide you with quality assurance, so you can be confident that the project will be completed correctly.
Working with a dedicated team can save you time and money in the long run because you will not have to manage the project yourself or pay for individual contractors.
Hiring developers in Ukraine might be pivotal to your business and its further development.
Hire a dedicated development team – potential drawbacks and how to get the right people?
Working with a dedicated development team can be an amazing experience. However, there are a few things you should pay attention to in order to make the most of it.
Define a clear objective
It is important you take the time to clearly define your objectives before starting any project. This will ensure that everyone involved is on the same page and knows exactly what you are expecting from them. If you have a dedicated development team, be sure to give them specific instructions and let them know what your ultimate goal is. This way, they can work together to make sure the project is done according to your specifications.
Set a budget
When you hire a dedicated development team, your second step is to set a budget. You need to know how much the project will cost you in total before you start. This way, you can plan your finances and make sure that you have enough money to cover the costs. You should consider many little details when setting a budget, such as team size, project length, and the complexity of the work. However, if you take the time to do your research and plan ahead, you can create a realistic budget that will help ensure the successful completion of your project. The cost of hiring developers in Ukraine is one of the best value-for-money options you can find on the market, so you should explore it further.
Communication is key
If you're planning on embarking on a software development project, one of the most important things to consider is how you'll communicate with your dedicated development team. Without clear and effective communication, it's all too easy for projects to go off the rails, resulting in unnecessary costs and a poor final product. That's why it's so crucial to have a dedicated channel of communication with your developers, whether that's through an online chat tool, video conferencing, or even good old-fashioned face-to-face meetings.
Be realistic
If you're committed to a project that requires a dedicated development team, you may need to be realistic about what you can get in return. Demanding things that are not possible will only lead to frustration and delays. Instead, focus on setting achievable goals and working with your team to create a realistic plan of action.
Summary
Before you hire a dedicated development team – whether or not it will be based in Ukraine, you should make sure you cover all other aspects; otherwise, it can end up as a money pit.