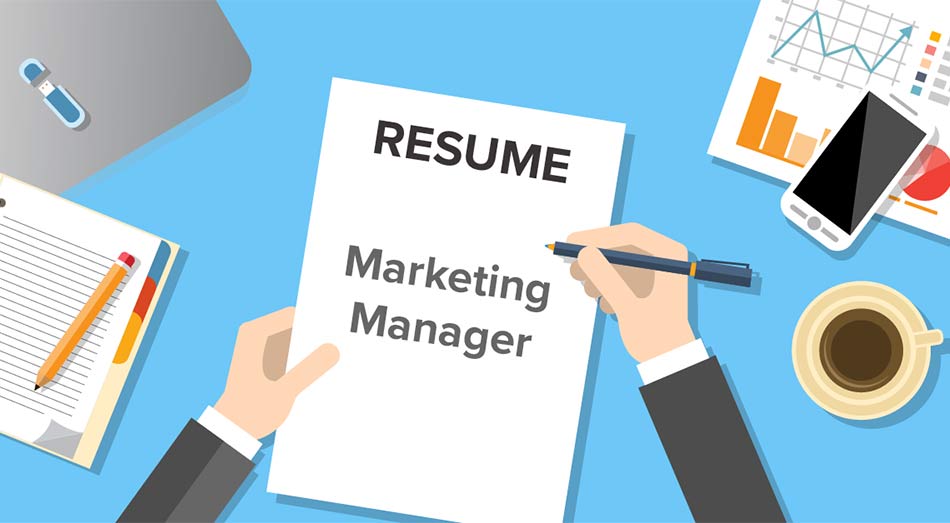 If you wish to apply for a job as a marketing manager, you must provide a flawless resume both in terms of content and form. Since this is a position of responsibility, you must demonstrate professionalism and seriousness through the writing of your resume. A winning marketing manager's resume should highlight the candidate's best versatility and communication skills. To achieve this, follow our tips.
The Role of a Marketing Manager
Before writing a good marketing manager resume and to help you understand the missions that will be assigned to you for this position, first discover the real role of this person. A marketing manager is a person who is in charge of certain responsibilities within a company. He or she is responsible for managing all marketing activities of a company including planning and overseeing the marketing budget and planning campaigns according to the company's objectives.
Also, to do this, you need to have strong project management experience and excellent leadership skills to guide your team on the right path. The marketing manager is also the one who engages in the animation of the accounts in the social networks of the company whether it is on Facebook, Instagram, TikTok, or even Pinterest. He has to publish and update photos, stories, videos, etc.
And finally, the marketing manager is also in charge of designing promotional visuals (catalogs, flyers, brochures, and advertisements) for the company and regular reporting on customer satisfaction indicators. This is why you need to be very careful when writing a marketing manager resume. This document must prove that you have all these qualities.
How to Start Writing a Marketing Resume?
If you don't know how to get a good start on your marketing manager resume, develop a plan. Here is a sample plan for a successful resume:
Header;
A resume title ;
A photo (not mandatory) ;
A CV tagline ;
Your professional experience ;
Your diplomas and training;
Your professional skills;
Your computer tools;
Your language skills;
And an additional section.
It is up to you to adapt this marketing resume outline to best suit your specific requirements and needs. In the header, include your full name, phone number, email address, and current address. You can even insert your professional networks to improve your chances of success.
The title of the CV must be original and striking to contextualize your job application.  You can mention the position of marketing manager and add your years of experience. And the catchphrase is made to impress the recruiter from the first lines of your CV, so as to hold his attention until the end.
How to Organize your Professional Experiences?
For a marketing manager position, your professional experience must show that you have the ability required in the ad. You must cite the sector of activity for which you have experience in digital marketing.
Mentioning that you have worked in this industry can be very favorable for your application. Don't hesitate to speak up:
The missions you have been assigned in the past;
The skills you have been able to develop so far;
The number of people you have managed (if you have been a marketing manager);
Your experience in project management, which is a highly sought-after quality in this position;
And the results and accomplishments.
If you don't have experience in this position, you can enhance your skills by mentioning your academic background. Indeed, to become a marketing manager, there are institutes that provide specialized training in this sector. There are also online training thanks to specialized masterclasses and it is Google that gives the certifications.
For a good marketing manager, you must be specialized in an industry and have sufficient knowledge of it.
The Mentions to be Specified in your Academic Career
Contrary to what many people may think, as a marketer, you should also mention your academic background in your resume to highlight it. This is important for your future employer.
To organize your academic background essay, mention:
The year of graduation;
The name of the institution or university;
The level of the degree;
And the title of the degree.
Your certifications must be from Google Analytics, Google Ads, Amazon AWS, Inbound marketing, WordPress, or others. And to become a marketing manager, you need to take training in web optimization or SEO, social networking, web writing, copywriting, or other related web or project management fields.
What are the Qualities of a Marketing Manager?
Marketing is an ever-changing industry. And putting yourself in a position of high responsibility in this sector shows that you have all the skills required to lead your team and carry out your missions.
Some of the qualities required for the position of marketing manager include:
Innovation and creativity;
Good interpersonal skills ;
Good listening skills;
Organizational skills;
Open-mindedness;
Ability to adapt;
Empathy;
Analytical and observational skills;
Negotiation skills;
Autonomy;
And ethics.
This list is not exhaustive. It is up to you to complete it according to your profile, your experiences, and your training.
That's it! You have a good marketing manager resume. All you have to do is write a nice cover letter. Don't forget it! No CV without this letter. It's what completes your application and shows your motivation for the job. In addition, in your cover letter, you can mention specific professional ambitions and accomplishments that you are proud of.