You will realize that the more options of trading platforms that are made available to you, the more difficult it becomes for you to make a choice. These days the web is filled with servers for trading platforms. It can become quite difficult at times to select the most suitable one. There is also added apprehension due to the number of scam sites available. You can never be too careful. Trading platforms need to be reliable and viable for your trading purposes. Most trading platforms cannot guarantee you these services of security and safety while trading.
It is always easier to base your decision on comparing the details of these platforms. This is why I wanted to share my overview of a trading platform that I have been using myself. I have been associated with CVMarkets for two years now. I thought sharing my experience while trading on this platform would help people understand it a lot more. It will enable them to make a choice for themselves.
Trading Platform
Your first thought when you open the site of this platform would be regarding the layout of the main page. It is simple and straightforward. You can visually comprehend all the services offered on this trading platform. Everything is symmetrically aligned on the main page itself. One thing that I found personally that could be improved was the color scheme of the home page. I felt like the dark background overshadowed most of the options that were laid out.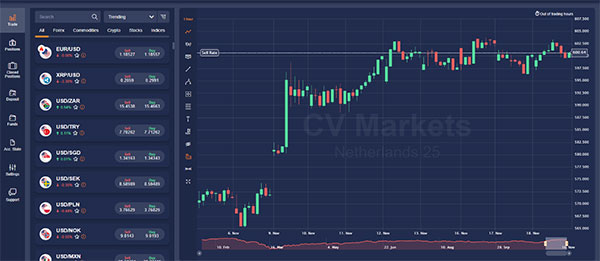 Another thing that stands out is the layout of the trading information. When you access the trading platform for information, you find that everything is pretty standardized. While there are platforms that are working towards customizing their service information, it seems like this trading platform still has a long way to go in that regard. You may not find it highly inventive at times, but they are definitely fully equipped.
The trade alternatives that have been provided include the usual line of Forex, Commodities, Crypto, Stocks, and Indices. There are more options lined up on the leftmost corner of the page. You can access the Trade, Positions, Closed Positions, Deposit, Funds, and Account states. The option to customize settings is also available on this panel. You will find that you can modify them to suit your trade requirements. The support icon is the last option on this panel and perhaps the most significant for beginner-level traders. They can use it to navigate the trading platform better. It will direct you to the customer service page. Trade specialists will guide you through your queries.
Restriction on Platform
You will notice that this platform has managed to restrict the number of indices prospects within a day and given Crypto deposits a higher average of commission. Though, the trading platform does manage to make up for this by providing a wide range of trading choices. This is what makes this trading platform great. You are able to determine its exceptional range of services in this regard.
The graph is definitely the focal point of this page. It overshadows all other components with its dominant function. Traders will be able to customize it to have it cater to their requirements. It is imperative that you are able to custom-set your graph to suit your needs. Therefore, CVMarkets provides a diverse range of outline types that you can opt for. They include Line, OHLC, Spline, Scatter, and Candlestick.
The default setting of the graph type is Candlestick. You can, however, set it accordingly. I personally opted for the Line outline as my default option. I found it to be a whole lot helpful. You will notice that the graph marker choices fluctuate when you are trading through a busy business sector.
Another thing that I found was lacking, was the number of languages offered. English seems to be their only available option. This will seclude them from a large number of traders. Trade requires networking and broadening the spectrum would work in their favor. CVMarkets is very considerate when it comes to customer demand. They make sure that they are able to follow through with the requirements of their clients.
Education Center
The highlight of the trading platform is definitely its education center. This is where the traders can access information from. Data is available in a unified form for the entire trade community. It doesn't matter if you are a beginner or an expert in the trade. Data is stocked to cater to all of you. The lingo of the marketing world is difficult to grasp. This education center will help you equip yourself to face the ruthless trading circuit.
From FAQs to the asset index, information is available in all forms. You can run through the general queries of the people from the trading scene. They will help you clear your own set of doubts. Similarly, there is a glossary available to you at hand. You can understand the various terms and dialects used in the trading scene. This is majorly helpful to traders looking to recall certain terms and conditions. Similarly, there is a separate layout for the asset index. All assets are listed in alphabetic order. You see, this was something that impressed me greatly. Not only was their information regarding the asset but there was also a listing of their trading hours and expiry rule. Basically, all information is readily available to you.
Section for eBooks
Last but not the least, there is a section for eBooks. It seems to me that the computerized world has figured out a way to digitalize its data. They are aware of the ever-expanding information. Seasonal data is correctly lined up for you to access. Over 12 books are made available to you. If you are a beginner-level trader, fear not. There are enough trading books lined up for you. What I did realize was the fact that it won't be long before the data in these eBooks becomes obsolete.
The market is fast. Every day is a new one. You can oftentimes find it difficult to keep up. This is why updating your strategies is imperative. Some of the books lined up for expert trade analysts were pretty standardized. They included the Advanced Strategies eBook and Advanced Technical Analysis. The platform can do more to incorporate a newer range of eBooks into current market strategies.
Account Types
CVMarkets gives its clients a range of account types to choose from. Each customer is able to choose from this list of accounts. There are a total of 6 account types. You will find that each of them has its own characteristic element. I will provide you with a brief overview of these accounts and their features.
Self-Manage
The first one is the self-manage account. It has a relatively simple setup but you manage to experience the standard service operations of a trading platform through this account. This has been designed for beginner traders. Minimum deposit: €250, Market Review, Significant leverage: up to 1:100
Basic
The next account is the basic account. It has more features compared to the self-managed account. These features have definitely been upgraded in that regard. They include a Minimum deposit: €5,000. Market Review, Dedicated account manager, Trading Bonus, Lucrative spreads: Basic Spreads, Significant leverage: up to 1:200, Trading room analysis: tier 3, Special Venture
Gold
You can always upgrade to the Gold account if you want more services. The service features of the Gold account have definitely been optimized for expert traders. They include a Minimum deposit of: €10,000, a Market Review, a Dedicated account manager, a Trading Bonus, Lucrative spreads: Platinum Spreads, Significant leverage: up to 1:200 Trading signals, and Trading room analysis: tier 2. You also have access to the services of Financial Planning and Risk management. The webinars are available to you with full access. You get prioritized withdrawals and special venture options with your account.
Platinum
The Gold account itself can be upgraded. The next account type is the Platinum account. You get similar features to that of the Gold account. Except you now also are authorized to access those VIP events. An assessment of this accounts features includes the following information Minimum deposit: €25,000, Market Review, Dedicated account manager, Trading Bonus, Lucrative spreads: Platinum Spreads, Significant leverage: up to 1:300Trading signals, Trading room analysis: Complete access, Financial planning, Risk management, Webinars: complete access, Prioritized withdrawals, Special Venture, Invitation to VIP events
Diamond
If you have more trading demands to meet, the Diamond account will match those requirements. Its features include the same information except for the fact that it has an upgraded leverage option. The characteristic features of this account are: Minimum deposit: of €25,000, Market Review, Dedicated account manager, Trading Bonus, Lucrative spreads: Diamond Spreads, Significant leverage: up to 1:400, Trading signals, Trading room analysis: Complete access, Financial planning, Risk management, Webinars: complete access, Prioritized withdrawals: level 1Special Venture, Invitation to VIP events
Libra
This is an Invitation only account. It is valued for its exclusivity and is categorized for VIP traders.
Risk Disclosure Statement
The risks of trading your resources in the market can never be taken lightly. This is why it is essential for trading platforms to take count of those risks and ensure the safety and security of their clients regarding these risks. The Risk Disclosure Agreement offered by CVMarkets helps equip their clients with all the relevant data related to the hazards of the trading market. Financial tools such as MegaQ Ltd. are available for its customers to use. Each client is made aware of the risks. This is why all data is featured in the Risk Disclosure Agreement. You can always evaluate the authenticity of the provided information by yourself.
Against Money Laundering Policy and KYC
There is one thing that you never have to worry about with CVMarkets; that is the stress of money laundering. The trading platform has managed to set up an anti-money strategy to focus on this violation. It takes considerable effort to avoid such violations to occur on their trading platform. This is why they ensure that their customers are aware of the obligations of the trading scene. The laws and guidelines subjected to anti-money laundering are highlighted.
Customers are required to pass through a strenuous procedure of identity verification. This may be quite irritating for some people. But I preferred the assurance of added security in that regard. Customers are not permitted to acknowledge any money, indistinct cash request, outsider transfer, or Western Union trades. CVMarkets itself assures the first source of every settlement. They are stern with respect to the ramifications in case of such violations of their client data.
Withdrawal, Refund, and Cancellation Policy
CVMarkets manages the withdrawal process diligently. There is a reason for such strong action in this regard. The platform is serious when it comes to client security. They make sure to evade any possible extortion from happening. Security is by all accounts the first concern for CVMarkets. You will notice, however, that the deposit alternatives don't show any way to utilize PayPal. I am sure it will be picked up by the trading platform sooner or later. There are three different ways through which you can withdraw:
Visa
Bank Wire
Bitcoin Transfers
Client support
The most important element of any trading platform is client care and support. It is imperative that there is an organized network set up to cater to it. You will always be able to determine the importance of customer satisfaction through this service. When I personally tried this service, I was not left disappointed. All I had to do was lay out my name, email, and subject of the request. I was impressed when they were further able to categorize my subject of the request. Also, I realized that this amounts to the level of expert service operators that they have lined up.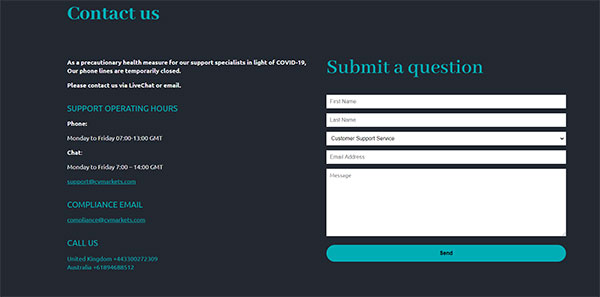 I understand the implications of a busy market space, which is why it didn't bother me when my request took a certain amount of time to patch through. I realize that there are customers lined up for the service operators. They are diligently offering support. All requests will eventually patch through. You can always opt for contact through the chat option. You will be able to correspond directly with a service operator through that means. The client care administration is operational day in and day out.
It is slower during the evening time but that is due to the peak activity during this time. CVMarkets has the UK and Australia telephone through which they can be reached if there should be an occurrence of a question. Their help working chat hours are Monday to Friday 07:00-14:00 GMT and Phone support hours are Monday to Friday 09:00 – 13:00 GMT
Last Thoughts
My assessment of this platform is from my own personal experience. I realize that each trader might have various other prerequisites for trade. Also, I can only characterize the various features incorporated in this trading platform. I have been satisfied with its service. You can always test out the network by yourself to be sure of its service operations.