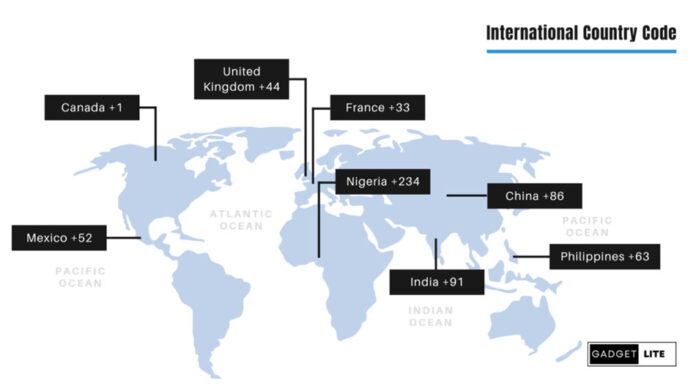 International country codes serve as the hidden keys to a global tapestry in today's hyper-connected world, where the press of a button can connect continents. These apparently cryptic number combinations, such as +88, +97, +96, +44, +23, +234, +86, +33, +52, +63, +66, +84, and +91, are more than simply digits – they are telecom passport stamps, providing us entry to the various and intriguing countries they represent.
Let us be more accurate! Consider contacting a buddy halfway around the world, sending a critical business fax, or even mailing a handwritten letter to a distant nation. Each time you do, you will come across a series of numbers that will unlock a virtual door to faraway civilizations, languages, and experiences.
This article is your full introduction to these digital keys, deciphering their meanings and exposing the amazing nations they represent.
+97: Unassigned yet Signifying
While the country code +97 is fascinating, it has not been given to any particular country. It is crucial to note, however, that numerous countries in the Middle East and Central Asia utilize three-digit calling codes that begin with "9" or "7." You must select the following digit to complete the code. The following countries start with +97X:
+970 for Palestinian Territories
+971 for the United Arab Emirates
+972 for Israel
+973 for Bahrain
+974 for Qatar
+975 for Bhutan
+976 for Mongolia
+977 for Nepal
+96: Maldives to Oman
The +96 code, like +97, is not a stand-alone country code. It does, however, act as an acronym for countries in the Middle East when followed by "0." Here's the rundown:
+960 for Maldives
+961 for Lebanon
+962 for Jordan
+963 for Syria
+964 for Iraq
+965 for Kuwait
+966 for Saudi Arabia
+967 for Yemen
+968 for Oman
+88: Searching for the Extra Digit
+88 is another country code that does not stand alone. While no country claims it entirely, various international codes begin with +88 and continue with another number. Notably, Bangladesh utilizes +880, whereas Taiwan employs +886. Here is a glimpse:
+880 for Bangladesh
+881 for Global Mobile Satellite System
+882 for International Networks
+883 for International Networks
+884 isn't Assigned Yet
+885 isn't Assigned Yet
+886 for Taiwan
+887 isn't Assigned Yet
+888 for Telecommunications for Disaster Relief by OCHA
+889 isn't Assigned Yet
+234 for Nigeria
Nigeria has the country code +234 and is noted for its colorful West African culture, diversified landscapes, and busy cities. In fact, it is an example of Africa's strength.
+44 for the United Kingdom
The +44 country code connects us to the United Kingdom, a sovereign nation comprised of England, Scotland, Wales, and Northern Ireland. The United Kingdom, known for renowned sites such as Big Ben, Buckingham Palace, and the Tower of London, combines history with modernity.
+86 for China
+86 represents China, the world's most populated country. China's worldwide significance is obvious thanks to its Great Wall, ancient history, and current economic power.
+33 for France
France, represented by +33, symbolizes elegance, craftsmanship, and culinary brilliance. France is a sensory feast, from the beautiful streets of Paris to the breathtaking vineyards of Bordeaux.
+52 for Mexico
+52 is assigned to Mexico, a nation known for its lively customs, delectable food and breathtaking vistas. Mexico's variety is enthralling, from mariachi music to Chichen Itza.
+63 for the Philippines
The +63 country code leads us to the Philippines, a lovely Southeast Asian island. It's a beach lover's heaven, with its clean beaches and kind people.
+66 for Thailand
+66 takes us to Thailand, a country known for its tropical beauty, busy marketplaces and Buddhist tradition. The food and temples are both enthralling.
+84 for Vietnam
+84 represents Vietnam, a country where the past and current coexist nicely. Vietnam is a country of exploration, from the old alleys of Hanoi to the tranquil seas of Ha Long Bay.
+91 for India
Finally, +91 is the doorway to India, a diverse subcontinent. India is a nation of limitless discovery, from its rich past to its spectrum of languages and cuisines.
A complete list of country codes is available here for you to review.
The Last Word
These worldwide country codes, which seem to be nothing more than strings of digits, symbolize much more. They symbolize the rich tapestry of our worldwide community, with each code leading to a different culture, history, and experience. Understanding country codes makes the globe a smaller and more connected place, whether you're planning a vacation, doing business, or communicating with loved ones overseas.