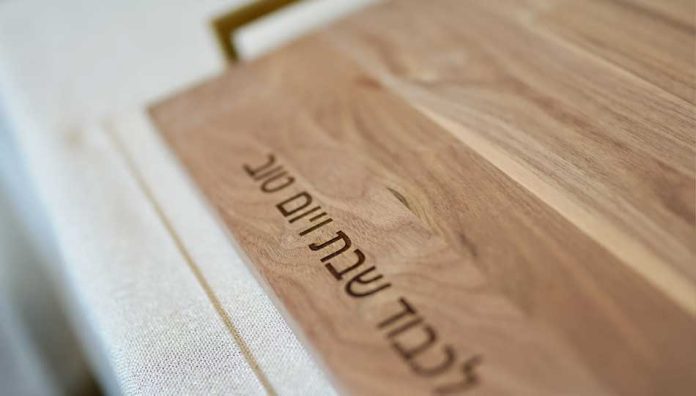 You may have heard of a Challah board if you're familiar with the Jewish tradition of celebrating Shabbat and other holidays. It's a beautiful piece that completes any Jewish dinner celebration or table setting. It brings a special atmosphere to a meal. Visit an authentic Judaica store to get one that suits your tastes. Whether you're new to Jewish customs or eager to learn about them, here's more information about Challah boards and their cultural significance:
What is a Challah Board?
A Challah board is a special platter or tray specially designed to hold a Challah bread loaf. It's often made from wood, ceramic, or glass and can feature intricate designs or meaningful symbols. This board can also be coupled with a Challah knife and Challah cover. The knife's purpose is to cut the Challah into slices, while the cover is a decorative cloth used to cover the bread during the meal.
Challah bread is a braided egg bread made with flour, water, yeast, sugar, and oil. This bread is a staple in many Jewish households and is served during special occasions like Shabbat dinners and holidays. Depending on the event, it can come in various shapes and sizes to represent different meanings. For instance, a three-braided bread symbolizes truth, justice, and peace, while a round shape symbolizes continuity.
The Significance of the Challah Board
Challah boards have a long and meaningful history in Judaism. People use them to enhance the special atmosphere of a meal and serve as a reminder of God's blessings. Placing the board at the center of the table symbolizes unity and solidarity among families and friends. It also represents the continuity of life, which is why it's often used during holidays or special occasions.
The Challah board also plays a functional role during meals. It holds crumbs and prevents them from spreading and making a mess. And when you cut the Challah on the board, it serves as a safe space to avoid scratches on the table.
You Can Get a Challah Board at an Authentic Judaica Store
Now that you know what a Challah board is and its significance, you may wonder where to purchase one. A legitimate Judaica store is the best place to start. You can shop at these stores online, which means you can shop at the convenience of your home. Confirm the authenticity of the store before buying. Check customer reviews and recommendations to make an informed decision.
An excellent thing about Challah boards is they're available in various sizes, designs, and materials. You'll find plenty of options if you prefer wood due to its rustic looks and sturdiness. You can also choose from ceramic or glass boards, which are perfect for those who prefer something more contemporary. Some sellers also provide customization services so that you can personalize the board with your family's name or other meaningful symbols.
You can purchase a Challah board for yourself or as a gift to loved ones. Even if you don't celebrate Jewish holidays, gifting it to a friend or family member is a thoughtful and unique gesture. They'll appreciate the thought that went into the gift and its special meaning. And if you decide to buy one for yourself, it'll be a beautiful addition to your dinner table.
How to Care for Your Challah Board
Proper care and maintenance will keep your Challah board in excellent condition for a long time. Wipe the board off with a soft cloth after use. Avoid harsh chemicals that can damage the material. You can use mineral oil or beeswax to keep the wood healthy and strong. For wooden boards, Apply a few drops of the oil or wax on a soft cloth and gently rub it across the board. That will help protect the wood from fading and cracking.
The Challah board is a central part of any Jewish household. It celebrates the unity and continuity of life while adding beauty to your dinner table. It also makes a meaningful and unique gift for loved ones. Visit a Judaica store to find the perfect board, whether for yourself or someone special. Remember to take care of it so you can enjoy its beauty for many years.